Iowa State University researchers helped write the first draft of the corn genome sequence that will be announced Feb. 28, at the 50th Annual Maize Genetics Conference in Washington, D.C.
Patrick Schnable, a Baker Professor of Agronomy and director of the Center for Plant Genomics and the Center for Carbon Capturing Crops, and Srinivas Aluru, a Stanley Chair in Interdisciplinary Engineering and a Professor of Electrical and Computer Engineering, led the work at Iowa State and provided the project with expertise in corn genomics and supercomputing.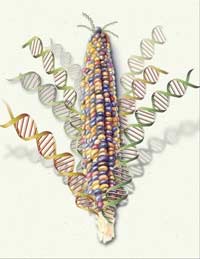 Schnable and Aluru led Iowa State's work to refine assemblies of the genomic sequences generated by researchers at Washington University. In addition, they identified almost 100 genes which have nearly identical copies in the genome. Schnable said these nearly identical paralogs may have played important roles during the evolution and domestication of corn and may have contributed to the ability of breeders to mold this important crop species to meet human needs. The Schnable and Aluru teams also discovered several hundred new corn genes that are not present in other plants. Some of these genes may be responsible for unique attributes of corn.
The corn genome is an especially difficult jigsaw puzzle to put together, Schnable said. There are some 2.5 billion base pairs that make up the double helix of corn DNA. The corn genome also has long lines of repetitive code. And corn has 50,000 to 60,000 genes to identify and characterize. That's about twice the number of genes in humans. Plus, 50 percent or more of the corn genome is made up of transposons or jumping genes. Those are pieces of DNA that can move around the genome and change the function of genes.
Solving all those assembly challenges took a lot of computing power and some new software technology. Aluru and his research team developed software called "PaCE" and "LTR_par" that runs on parallel computers -- including CyBlue, Iowa State's IBM Blue Gene/L supercomputer capable of 5.7 trillion calculations per second. PaCE can generate draft genome assemblies in hours or days instead of months. LTR_par identifies retrotransposons, another mobile genetic element that can cause genome changes such as mutations, gene duplications and chromosome rearrangements.
Implications
Schnable said the resulting draft of the corn genome provides plant scientists with a lot of data to work with. He said it's a lot like the collection of maps, diary entries, dried plants and animal specimens brought back by the Lewis and Clark expedition to the Pacific. The explorers gathered and assembled a great deal of basic information about the Louisiana Purchase that required years of subsequent analysis and study.
"This will enable so much exciting corn research," Schnable said. "This will raise questions about the biology of corn and provide great tools to answer them."
Those answers could help scientists modify and improve corn plants, Schnable said. The genome, for example, could help scientists:
• develop crops that can withstand global climate change
• add nutritional value to grain
• sequester more atmospheric carbon in agricultural soils
• or boost yields so crops can meet growing demands for food, feed, fiber and fuel.
"In addition, what we learn from the corn genome will allow us to better understand other grasses," Schnable said.
The genome of corn is very similar to the genomes of rice, wheat, sorghum, prairie grasses and turf grasses. Therefore, Schnable said the draft of the corn genome can help researchers improve the other cereals and grasses.