TOYOTA has launched a new vehicle which combines the slickness of a sports car with a petrol-electric hybrid engine.
The car manufacturer launched its Future Toyota Hybrid Sports (FT-HS) concept today, and said the vehicle would provide both ultra high performance and ultra low fuel use and emissions.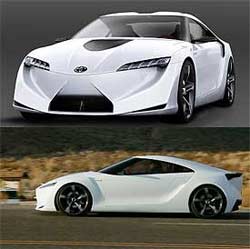 Toyota's manager of product development Doug Soden said the new vehicle showed that hybrids could be made not only for the masses but from a sports perspective as well.
"There is a stronger need for hybrid vehicles to be on the market, or much more fuel efficient vehicles," Mr Soden said.
"Whichever way you look at it, whether it is a petrol-electric or hydrogen-electric, there needs to be that hybrid interface."
Produced by Toyota's research and design team in California, the FT-HS mates an electric motor to a 3.5-litre petrol engine. Toyota says its front engine, rear drive layout provides optimum performance, reaching speeds of 100 km/h in around four seconds.
"What we're able to do is use a smaller capacity engine in conjunction with the hybrid transmission and electric motor ... (and) give the same performance as a vehicle with a ... larger engine," Mr Soden said.
Bearing a resemblance to Kitt from the sci-fi TV series Knight Rider, Toyota design manager Nicolas Hogios said the car was a "mind-blowing design".
"It's very edgy ... a portal or a vision into the future for Toyota design."
Toyota corporate manager Greg Gardner said the FT-HS showed hybrid vehicles didn't need to be boring and conservative.
"As well as environmental benefits, they could also be fun to drive," Mr Gardner said.
He said there could be a day when a hybrid vehicle sporting a lightweight design was taking the track in a Formula One race.
"Particularly with European customers being very aware of the environment, a hybrid race car is the way to go. We've had the (hybrid) Supra win a 24-hour race in Japan, so we can just transfer that technology across to F1," Mr Gardner said.
The car will be on display at the Melbourne International Motor Show from this Friday.
However, those planning to head to their local car yard to pick up the vehicle, will have to wait a little while.
"This is really a concept car, so we'll judge reaction to that," Mr Gardner said.
"Toyota can turn a car around pretty quickly, so for this kind of vehicle we are looking four to five years down the track."
Mr Soden said there would be a day when fully electric vehicles had mass appeal, but it still might be some time away.
"There is a market in the future for pure electric vehicles. However, their usability is going to be quite limited from the distance you can travel, and from the infrastructure which you have to put in place in order to have a powerpoint to recharge the vehicle wherever you are," Mr Soden said.
"In the end, it will happen though, especially for metropolitan short distance driving."