After securing a major deal with Indian giant Tata air powered car firm MDI plans to take its low carbon vehicle to the US.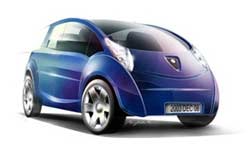 Fresh from securing a deal with Indian automotive giant Tata to build its innovative air powered car on the subcontinent, French green car firm MDI has revealed details of how it plans to crack the US market.
Then company, which was founded by former Formula One engineer Guy Negre and has developed an engine it claims can run purely on air, said it plans to license its technology to a series of regional licensees who will build and operate the vehicles around the world.
Cars due to ship include the three-seater OneCat, and the 96mph, six-seater CityCat, which MDI's US representative Zero Pollution Motors (ZPM) says will cost around $17,800 when it ships in the US in 2009-10.
The cars are only fully air-powered at lower speeds. Above 20mph, the 75hp CityCat begins burning small amounts of fuel to heat the compressed air and increase the vehicle's range.
ZPM says that the vehicle emits just 0.158lbs of CO2 per mile when using the burner, which can be powered by conventional petrol, ethanol, or bio-fuels.
The car will take roughly an hour to charge, and will run for between 800 and 1,000 miles on a single tank of air, said Shiva Vencat, vice president of MDI and chief executive of ZPM.
He has the rights to build the first plant in the US, but is also looking for investors for the rest of the €300,000 licenses to build plants across different parts of the US. He anticipates that ultimately there will be an average of more than one plant per state.
MDI sold the rights to build and sell the car in India to Indian car manufacturer Tata last year in a €20m deal. "The fact that Tata bought the first for India has given us an infusion of capital that will allow us to finish the car," said Vencat, who expects to open the first US manufacturing plant in New York.