Japan's first commercial plant to produce ethanol for cars from locally grown rice will reach full capacity of 1,000 kilolitres a year by March 2009, a few months behind schedule.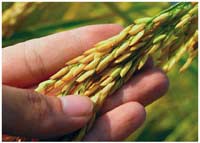 The project in Niigata, central Japan, for which the Japanese government is paying half the plant construction cost of 1.6 billion yen (US$15 million), is one of Japan's three such government-backed commercial production schemes.
It is managed by the National Federation of Agriculture Co-operative Associations (Zen-Noh) and will use non-food rice.
Ippei Koike, general manager of Zen-Noh's farming planning department, said the delay is partly due to paperwork for construction approval.
He said farmers were planting two types of super-harvest rice in more areas than planned this year after the 2007 harvest of one type gave a lower-than-expected yield of 602 kg of brown rice, excluding broken rice, per 10 ares.
An are is 100 square metres (1,076 sq ft).
In Japan, the average rice farming household cultivates a rice area of 107 ares, or 1.07 hectares, with an annual revenue of 1.8 million yen (US$17,000).
"We had expected this type to consistently harvest 800 kg per 10 ares -- 30 to 40 percent more than that of ordinary rice. But last year's experience made us realise that's hard to achieve," Koike said in an interview.
"We won't give up. Japanese farmers are accustomed to much tougher conditions," Koike said, referring to unusually low temperatures in July last year that thwarted the development of rice kernels.

RICE PLANTING
The Niigata project involves engineering company Mitsui Engineering & Shipbuilding Co and Satake Corp, a food processing machinery maker based in Hiroshima, western Japan.
Japan lacks competitive farm produce to make enough ethanol to mix with gasoline and cut greenhouse gas emissions.
But the project aims to use non-food rice planted in abandoned farmlands. A fall in domestic consumption of rice every year results in the Japanese government's plan to reduce planting for food rice by some 100,000 ha in 2008 from 2007.
Zen-Noh has said it will buy rice from farmers at 20 yen a kg to make its auto fuel competitive with regular gasoline.
Ordinary food-quality rice costs well above 100 yen a kg and harvests 500 to 600 kg per 10 ares.
"Despite the loss-making process, farmers now think that the rice for ethanol is one of the forward-looking options to make the best use of the abandoned fields," Koike said.
Zen-Noh, which retails gasoline mainly for farmers, plans to sell gasoline directly blended with 3 percent of the rice-origin ethanol at its 40 gas stations in Niigata.