The first ever bio-fuel commercial jet will fly next week on a trial basis. The launch of the jet by Virgin Atlantic is expected to herald a new chapter of environmental conservation by aviation companies, if it succeeds. The demonstration from London's Heathrow to Amsterdam would be on one of the company's Boeing 747s on February 22.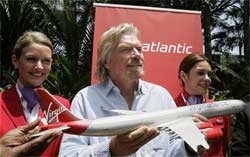 President of Virgin Atlantic, Sir Richard Branson, said in a statement: "This breakthrough will help Virgin Atlantic to fly its planes using clean fuel sooner than expected. The demonstration flight next will give us crucial knowledge that we can use to dramatically reduce our carbon footprint.
Virgin Group pledged to invest all its profits from its transportation companies towards developing clean energy and with this breakthrough we are well down the path to achieving our goals."
A plane with a capacity of 320 passengers is estimated to release 460 tones of carbon dioxide into the air within a distance of 13,680 kilometres.
"It will be the first time that a commercial aircraft will run bio-fuel in-flight and is part of a major initiative among some airlines and Boeing to discover sources of sustainable aircraft fuel for the future," read a statement signed by Ms Sharon N'deritu of the Energy Source, a public relations organisation.
The demonstration flight, with no passengers on board, will use a truly sustainable type of bio-fuel that does not compete with food and fresh water resources, the statement read in part.