Tenaska is developing a site near Sweetwater, Texas, upon which to construct a technologically advanced coal-fueled electric generating plant able to capture up to 90 percent of the carbon dioxide (CO2) that would otherwise enter the atmosphere. The carbon dioxide would be sold for use in enhancing oil production in the Permian Basin, resulting in geologic storage.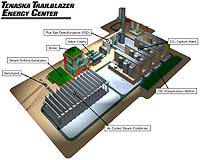 The proposed construction site is a 1,919-acre tract east of Sweetwater and north of Interstate 20 in Nolan County. The more than $3-billion project will provide a significant boost to the local economy, providing up to 2,000 jobs at peak construction and more than 100 permanent well paying jobs during operation.
Speaking to a group of Sweetwater business leaders today, Bill Braudt, Tenaska's general manager of business development, said that "the benefits of this proposed plant are many. It will provide a source of badly needed, environmentally sound electric generating capacity. This plant will use abundant and relatively low-cost coal and help keep Texas electricity prices in check."
"It is exciting to see this innovation coming to West Texas," said Texas State Senator Robert Duncan. "Tenaska's approach to energy generation through the capture of 90% of carbon dioxide and reduced water consumption is unique, and we West Texans pride ourselves on seeking new ways to achieve better results. We expect a strong partnership with Tenaska that will revolutionize this industry."The carbon dioxide produced and captured by this product will enable Texas to increase oil production and thus reduce the nation's dependence on foreign oil," she added.
If built, the plant will be the first new commercial coal-fueled power plant, other than small research projects, to capture and provide for storage of CO2, considered by many a greenhouse gas that contributes to global climate change. As such, it would be a first-of-its-kind breakthrough in environmentally responsible electricity production that has been sought by Texas civic and business leaders, environmentalists and energy consumers.
The CO2 would be captured and transported via pipeline to oil fields in the Permian Basin where it will be used in enhanced oil recovery and stored in the Basin's geologic formations. CO2 has been used to increase oil production in West Texas for more than 30 years.
The volume of CO2 expected to be sold to oil producers could be used to recover enough oil to add more than $1 billion a year of oil production to the Texas economy.
The approximately 600-megawatt (MW) plant would provide enough electricity to power about 600,000 homes. Construction could begin in late 2009 and be completed in 2014.