The world's largest photovoltaic solar power farm has opened in Spain with an installed peak power capacity of 20 megawatts. The farm is 42% larger than the solar farm at the Nellis Air Force Base in Nevada which is rated at 14 megawatts. The new solar farm is made up of of 120,000 solar panels and covers about 247 acres in Jumilla, a wine-producing region in southern Spain that has a very plentiful 300 days of sun a year. The farm's total annual production will be the equivalent of the energy used by 20,000 homes.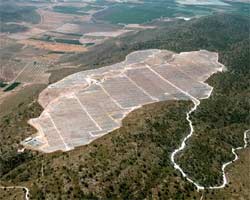 The solar panels are owned by groups of investors. It's expected to generate an estimated annual income of $28 million and a reduction in CO2 emissions of 42,000 tons a year. Powerlight provided single-axis solar trackers to improve the system´s performance.
A local Spanish association called Juncellus thoroughly evaluated the site to ensure high environmental criteria in the construction of the plant. They included replanting around the plant, water deposits for fires, drinking troughs for birds and other such details.
According to the figures given by the Spanish Minister of Industry, renewable energy currently accounts for around 7% of the total primary energy produced in Spain.