Shusei Yamada, driving what he says is the only biodiesel vehicle that can refine its own fuel from waste oil, made Seattle a first U.S. stop in his around-the-world attempt to demonstrate the green power of driving on recycled cooking oil.
"This oil comes from you all," said Yamada, who spoke Japanese but was translated into English for a small crowd gathered on the grounds of a Madrona neighborhood cooperative called Dirty Hands Biodiesel Coop. The leader of a project called "Biodiesel Adventure" said he intends to drive across the planet depending upon donations of waste vegetable oil from every community he visits.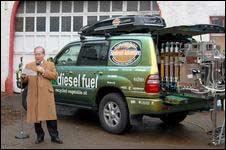 Standing in front of a donated diesel Toyota Land Cruiser, covered with decals and painted with a green-metallic tint that shifted slightly in color depending upon the angle of view, Yamada described how the vehicle can take many kinds of dirty, used vegetable oil and refine it for use as a fuel. The portable refinery, rolled out of the back end of the SUV, looked like a massive espresso machine.
Speaking with assistance from translator and collaborator Satori Murata, Yamada asked that individuals interested in promoting biodiesel and environmentally friendly transportation alternatives "spread the word" so they can find people willing to donate vegetable oil as they proceed across the country.
Having just shipped the self-refining biodiesel-fueled Toyota SUV from Japan to Vancouver, B.C., they have only driven about 250 miles of their tentatively planned 20,000 to 30,000-mile trip. "We're a little nervous," acknowledged Murata, noting they arrived in Seattle on veggie fumes. They are headed toward Los Angeles next, she noted.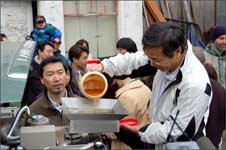 "I saw the movie 'Back to the Future' and got the idea for this," said Yamada, a journalist and photographer in Japan. He said he is most excited about eventually driving the vehicle across the Sahara Desert. Yamada said his portable refinery can process about 14 liters (3.7 gallons) of waste vegetable oil at a time and the tank holds about 340 liters (90 gallons).
The Biodiesel Adventure team has already put its self-refining vehicle to the test in other events, including the 2007 Paris-Dakar Rally. They report finishing third in the commercial, unmodified biodiesel class of contestants.
"We don't have all the answers," Yamada said. "We are not trying to save the world."
They're just trying to see if they can drive around the planet by asking everyone they meet to donate their dirty cooking oil.