Cool Earth Solar a developer and owner of utility-scale solar power plants, has announced an initial closing of $21 million in its Series A financing. Additional closings in this round of financing may occur over the next 60 days.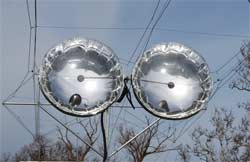 Cool Earth Solar owns proprietary technology which is radically different from other high concentration photovoltaic (CPV) systems. "Our goal from the very start was to find a clean energy generation solution that could address the global scale of the carbon problem. We discarded everything that couldn't scale, relied on rare components, or had some other critical bottleneck. Ultimately, we developed a novel technology which radically reduces the amount of material in our system and balances labor and capital costs," said Dr. Eric Cummings, founder of Cool Earth Solar.
Coolearth solar energy plants consist of inflated mirror concentrators which gather sunlight and focus it onto photovoltaic cells. These concentrators increase the energy impacting the solar cells many times over and cost orders of magnitude less per collected area than conventional mirrors. Their strong structure can withstand 100 mph winds and protects the mirrored surface and receiver from rain, insects, dirt, and the elements.
"Cool Earth Solar power plants will produce electricity at a cost lower than natural gas-fueled plants. Our innovative solar technology delivers economically as well as environmentally." added Cool Earth Solar Chief Executive Officer, Rob Lamkin.
"We will apply the funding towards expanding our team, developing our technology, and building our state-of-the-art solar power plants. We are actively seeking exceptional engineers, scientists, and manufacturing designers," continued Lamkin.