A national leader in turnkey photovoltaic systems and a member of The Alpha Group, Alpha Energy announces the introduction of the EV-500, a solar charging station designed for electric vehicles. This Solar Charging Station lets people take their short commute completely off the grid," said Ezra Auerbach, Director of Applications Engineering for Alpha Energy.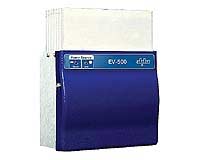 "People buy an electric vehicle to save money on gas and minimize their carbon footprint, but they still need to plug that vehicle into the century-old fossil-fueled power grid. The EV-500 makes it simple to harness the power of the sun to recharge electric vehicles."
Alpha Energy's EV-500 Charging Station is based on a proprietary design. To meet varying geographical and solar intensity requirements, this one system can recharge an electric vehicle using one, two or three 170 Watt PV modules.
"Our unique topology means that as little as a single PV module can be utilized to charge a 48Vdc battery," Auerbach said. "We've designed this charging system for ease, flexibility and expandability."