Infinia has announced a massive $50 million investment. The cash-infusion -- which follows a $9.5 million investment last summer -- will help the 23-year-old company start a solar dish manufacturing line at its headquarters in Kennewick. By the end of this year, the 40-person company plans to have the first dishes rolling off the line with staffing mushrooming to 200 people.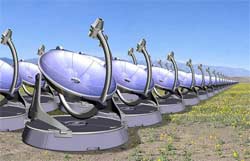 If the company meets goals in the growing solar industry, Chief Financial Officer Gregg Clevenger said it could employ as many as 800 people worldwide by 2013.
While Infinia has yet to ink any deals for its devices, it is currently in talks with a number of solar field developers in Europe and the western United States. Those potential customers, who Clevenger did not disclose, are looking to create solar facilities that could generate from 10 Megawatts to 150 Megawatts. It has been showing customers prototype devices at Sandia National Labs in New Mexico, with Clevenger saying that the response has been overwhelming.
Infinia is developing the 12- to 14-foot parabolic dishes and the Stirling engines that convert the sun's rays into energy, a potentially high-stakes game. A solar field developer who wanted to create 10 Megawatts, for example, would need 3,334 units from Infinia.
At nearly $20,000 per unit, that equates to about $66 million. The company's manufacturing facility in Kennewick will have the ability to produce about 18,000 units each year, representing 54 Megawatts of power.
While the system is expensive, Clevenger claims that the Infinia system is 20 percent to 30 percent cheaper than photovoltaic solar panels. That's partly because the Infinia devices -- at 200 parts -- are easier to assemble and install. Unlike photovoltaic technology -- which requires a nearby water source to cool the panels -- Infinia's dishes can be located on less desirable land, he said.
"We are not constrained by having to be on flat land and in areas near a water supply," he said. "We can install these up a mountain, with no water whatsoever."