Researchers at the Georgia Institute of Technology have developed a strategy to capture, store and eventually recycle carbon from vehicles to prevent the pollutant from finding its way from a car tailpipe into the atmosphere. Georgia Tech researchers envision a zero emission car, and a transportation system completely free of fossil fuels.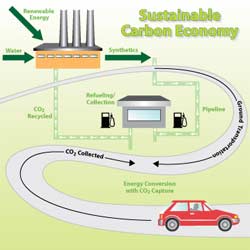 Technologies to capture carbon dioxide emissions from large-scale sources such as power plants have recently gained some impressive scientific ground, but nearly two-thirds of global carbon emissions are created by much smaller polluters — automobiles, transportation vehicles and distributed industrial power generation applications (e.g., diesel power generators).
The Georgia Tech team's goal is to create a sustainable transportation system that uses a liquid fuel and traps the carbon emission in the vehicle for later processing at a fueling station. The carbon would then be shuttled back to a processing plant where it could be transformed into liquid fuel. Currently, Georgia Tech researchers are developing a fuel processing device to separate the carbon and store it in the vehicle in liquid form.
Georgia Tech's near-future strategy involves capturing carbon emissions from conventional (fossil) liquid hydrocarbon-fueled vehicles with an onboard fuel processor designed to separate the hydrogen in the fuel from the carbon. Hydrogen is then used to power the vehicle, while the carbon is stored on board the vehicle in a liquid form until it is disposed at a refueling station. It is then transported to a centralized site to be sequestered in a permanent location currently under investigation by scientists, such as geological formations, under the oceans or in solid carbonate form.