Ford Motor Company's first demonstration Escape Plug-In Hybrid is ready to roll on California roads. The blue-oval automaker has just delivered the first of 20 research PHEVs to Southern California Edison to begin daily road testing.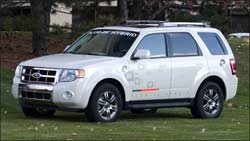 The Ford Escape Plug-In Hybrid relies on high-voltage, lithium-ion batteries and can deliver up to 120 miles per gallon (slightly under 2 liters per 100 kilometers) with a full charge, which is unheard of with this type of vehicle. Common household outlets (120 volts) can be used for charging, a process that takes 6-8 hours.
For the first 30 miles (50 kilometers) following a full charge, the Ford Escape PHEV runs on battery power. As the charge decreases, the vehicle reverts to hybrid mode. The transition is automatic and unnoticeable to the driver.
The delivery comes just five months after Ford and Southern California Edison announced their collaboration to accelerate the marketing of plug-in hybrids. The two companies are exploring new business models and plan on developing other advanced vehicles."