Developed by a consortium of British, Italian and Japanese companies, the Elettrica is a truly groundbreaking electric vehicle.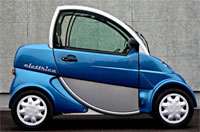 No congestion charge, free parking in many parts of London, no road tax, very inexpensive fuel, and no emisssions. This little car has big benefits.
It is also the first production electric car in the UK with the option of a lithium battery power supply, offering increased power and range.
Designed in Milan, the Elettrica is uniquely stylish. The interior is light, spacious and comfortable, offering the driver a great view of the outside world - with excellent visibility and a glass roof.
The advanced Lithium-battery gives a 70 mile range with a 45mph top speed. The batteries can be charged for a few minutes or a few hours with no risk of damage. a full charge takes 5-6 hours and it can be charged with a normal household socket.
The Elettrica is available in 6 colors an sells for $18,900.