HelioVolt has announced that it will locate its initial manufacturing facility in its hometown of Austin, Texas. The company decided to stay in Austin, whose officials have called the company the city's most successful recent startup.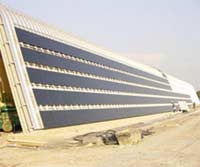 HelioVolt has developed a way to build solar panels with a thin-film technology that's cheaper than current, silicon-based methods. The company, which has landed more than $100 million in venture capital to develop the technology, has been looking to build its first manufacturing facility.
Earlier this year, the company closed on $101 million in its series B funding round, one of the largest venture deals in Austin to date. That influx of cash led to wide speculation, provoked by CEO B.J. Stanbery, that the company would locate its planned $80 million manufacturing plant in another state, taking the company's headquarters with it. A national feeding frenzy for the company followed.
The Austin City Council in October offered HelioVolt incentives worth more than $600,000, equal to 60 percent in property tax abatements for 10 years, provided the company met investment and employment targets.
County commissioners subsequently declined to offer HelioVolt matching incentives, in part because they said the company wasn't making enough of a capital investment.
Stanbery says he intends to create at least 150 new jobs in the new plant, which will have an initial capacity of 20 megawatts with the ability to expand as the company increases production in the U.S. and abroad.
"From a purely financial perspective, (Austin's) was not the best offer," Stanbery said. The value of the proximity to the company's engineering operations was the deciding factor, he said.
In addition, the CEO added, the city's incentives "gave us a lot of confidence the city wants to work with us to create a better environment for renewable energy, clean energy and entrepreneurship in the Austin area."
HelioVolt's thin-film solar cell is composed of copper, indium, gallium and selenium. The company's proprietary printing process can rapidly coat solar cells onto glass, metal and other construction materials, eventually making it cost-effective for even windows and exterior cladding to become power sources.