Ener1, Inc. has become the first to successfully integrate a lithium-ion battery into an operating hybrid electric vehicle (HEV), an important milestone for the electric vehicle industry.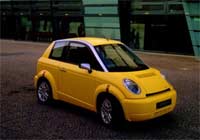 The company's automotive battery division, Indianapolis-based EnerDel, has exhibited its unique high-powered lithium-ion battery pack in an operating HEV at the International Electric Vehicle Symposium and Exposition (EVS-23) in Anaheim, California.
"We have made a major stride toward providing the power, safety, and affordability that the market has been waiting for," commented Ulrik Grape, Ener1 Executive Vice President for Global Sales and CEO of EnerDel. "We believe that ours is the safest high-power lithium-ion battery available for hybrid electric vehicles."
EnerDel's engineering team has modified a Toyota Prius vehicle to work successfully with the company's exclusive battery chemistry and design. Making approximately twice the energy available for the car's use compared with the existing nickel metal hydride battery is expected to substantially increase performance.
EnerDel publicly unveiled its HEV battery pack prototype on October 9 in an event at its Indianapolis manufacturing facility presided over by Congressman Dan Burton. Third-party testing results on the battery's performance in the Prius are expected to be released during the first quarter of 2008.
EnerDel is scheduled to deliver a prototype electric vehicle (EV) battery to Think Global of Norway in March under a $70 million development and supply agreement. The company has also received a $6.5 million contract from the U.S. Advanced Battery Consortium for development of a plug-in hybrid electric vehicle (PHEV) battery.
On November 20 Ener1 announced completion of a $32 million common equity private placement with a group of six major financial institutions and an alternative energy investment trust.
"Our latest technological achievement, and recent completion of a very successful round of capital raising, position us to win major new hybrid, plug-in hybrid, and electric vehicle contracts," commented Ener1 Chairman Charles Gassenheimer. "We have the kind of momentum now that makes us a serious force in the industry."