A local entrepreneur and an electrician from California say they have exclusive rights to a solar panel that will turn the energy industry on its head and help the environment — a device 15 times more powerful than any other and cheaper to boot.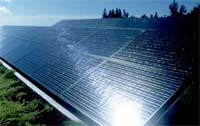 The pair organized in July as FreEnergy LLC and unveiled their sun-powered generating system to a crowd of about 20 people in North Charleston on Wednesday.
FreEnergy's chief executive is Nelson Mensch, an electrician who moved to Charleston from California this year. He said he was a "total skeptic" when he first heard about the device but vowed that it produces about 3,200 watts of power versus 200 watts cranked out by an average photovoltaic solar panel.
The device is based on traditional silicon-chip technology, but its purported advantage is that it captures all of the light in the solar spectrum, as opposed to about 17 percent in the most efficient photovoltaic cells to date.
FreEnergy President Andre Woods called the device "possibly earth-shattering."
"We can give assurances that your power cost can be the same for 30 years," Woods said. "The economic impact of this is almost incomprehensible."
The company declined to say who invented the panel, how they came to acquire the rights to manufacture it or how they will bankroll the 200-worker factory they are proposing to buy or build by summer.
FreEnergy said the panel was patent-protected but would not elaborate, citing fears of knockoff products. The company said the oil industry has squashed or shelved similar technology.
"The only reason there aren't solar panels on every rooftop is that big oil companies have not figured out how to charge you for the sun," Woods said.
Powering an average-sized house with FreEnergy panels would cost about $19,000, versus $30,000 for conventional photovoltaics, according to Woods.