ENSR is providing environmental permitting and licensing support for four major solar energy projects in southern California. ENSR, part of AECOM, is a leading global environmental services firm. To help secure the environmental permits for these important new energy projects, ENSR evaluated the projects' potential environmental impacts on water resources, air quality, socioeconomic conditions, hazards, and scenic views. ENSR also managed extensive field surveys for impacts on plants, animal species and habitats, and on prehistoric and historic resources at the sites.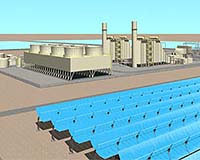 The solar projects, all located in Southern California, will utilize solar thermal technology to generate electrical power, via arrays of highly polished curved mirrors known as parabolic trough collectors. The new projects will use state-of-the-art versions of existing technology in use at nine solar power plants operating in the California desert for nearly 20 years.
Two of the four projects integrate solar power with the latest technology in natural gas-fired generation, making them the first hybrid power plants of this type in the world. Both projects, which will use reclaimed water from nearby wastewater treaent plants for power plant cooling, are being developed by Inland Energy, Inc. on behalf of the cities of Victorville and Palmdale, respectively. The third and fourth projects are pure solar thermal projects, and are expected to be among the largest solar thermal generating facilities in the world.
Dr. Paul Smokler, an ENSR vice president and regional business development director for the western United States commented, "We are very excited to provide our environmental permitting expertise for landmark renewable energy projects such as this. It's encouraging that more sustainable energy projects are being developed to meet rising demand."
ENSR's work in California complements its work on other domestic solar projects. Recently, ENSR completed environmental consulting for the first and largest utility-scale solar photovoltaic array system in New England. The Brockton, MA project is the nation's largest brightfield - a solar energy generating station located on a former brownfield site.