Clipper Windpower Plc announced that it has established a Centre of Excellence for Offshore Wind in Blyth, United Kingdom, to develop the world's largest offshore wind turbine at 7.5 MW. The "Britannia Project" has attracted support from the UK's One NorthEast Regional Development Agency.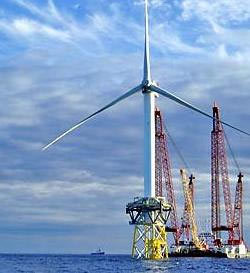 The development of the 7.5 MW wind turbine will build upon the advanced architecture and technology of Clipper's Liberty 2.5 MW turbine which, in September 2007, was recognized for its unparalleled levels of efficiency, reliability and reduced cost of energy by way of a commendation awarded to Clipper by the United States Department of Energy.
The Britannia Project addresses the growing demand for highly reliable and efficient offshore wind energy. Clipper will enlist the services and test facilities of the Blyth-based New and Renewable Energy Centre (NaREC) in this project.
"We are extremely pleased to have the U.K.'s One NorthEast working with us in the Britannia Project," said James G.P. Dehlsen, Chairman and CEO of Clipper. "We established the Project based on the offshore wind application of our technology and in concert with the U.K. government's policy leadership targeted to provide upwards of 20% of the nation's electricity from renewable sources which will rely in great part on offshore wind development. This forward-thinking policy should provide strong and affirmative action on both climate change and the enhancement of domestic energy security."
U.K. Secretary of State for Business, Enterprise and Regulatory Reform (BERR), the Rt. Hon. John Hutton MP, noted that the UK's commitment to wind power is steadfast.
"Clipper Windpower's decision to develop a new generation of offshore wind turbines in the North East of England is further evidence that the U.K. is fast becoming a magnet for renewable energy investment," Mr. Hutton said. "A recent report from Ernst & Young showed that the UK has moved up from fifth to second in the world for attractiveness in new renewable investment. Behind this is the Government's determination to bring down planning barriers and target support at marine and emerging renewables. By 2015 we expect to see a threefold increase in green energy feeding into the grid."