The world's first hybrid train, which is fuel efficient and reduces emissions, made its inaugural trip from Paris to the French Champagne region on Tuesday.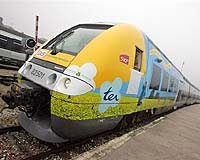 Built by Canada's Bombardier, the train switched from electrical power to diesel fuel to reach the eastern French town of Troyes from Paris in two hours, travelling at a maximum speed of 160 kilometres per hour (100 miles per hour).
The train's ground-breaking innovation lies in the fact that it can switch from diesel to electrical power without stopping, according to Bombardier.
Ten French regions have ordered 144 hybrid trains including the greater Paris metropolitan region, providing a boost to regional train travel in France.
Bombardier Transport president Andre Navarri said the hybrid train's trip to Troyes produced 20 percent less emissions than a conventional diesel train, making it an environmentally-friendly option for expanding transport.