Sanyo of Japan has built an incredible Solar-Collecting structure to demonstrate its superior solar innovation technology. The Amazing Solar Ark is about 1000 feet wide and weighs 3,000 tons. It has over 5,000 solar panels and can gererate 630 kW of power.

Here are some of the Specs
LED Presentation System
The facade of the Solar Ark is a huge illuminated presentation panel. With over 77,200 red, green and blue computer-controlled LEDs installed the panel can create a variety of visual images. Compared with a conventional illumination system using a neon sign, an LED light panel is capable of creating more detailed images and consumes less energy - only a seventh of the energy used by a neon sign.
* SOLAR ARK
2.4 m tall and 11.7 m wide
17,000 white LED used
* Presentation System
412 lighting units mounted between solar battery panels. Each
unit measures 120 mm in diameter and consists of 51 red, green
and blue LEDs. The entire system is computer-controlled to
create a variety of images and characters.
Water Design
The Solar Ark is surrounded by a water garden, including impressive fountains and two ponds, each with a waterfall. When the wind blows, the reflections from the illuminated Solar Ark dance on the waters, creating a spectacular light show.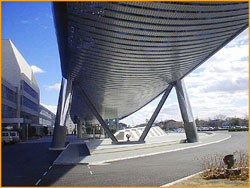 * Waterfalls (2)
2.35 m high and 40 m wide each.
Maximum water flow: 9.2 m 3 /min.
* Ponds (2)
780 m 2 and 5-10 cm deep.
Holds 130 tons of water, which also serves as fire hydrant reserve.
* Fountains
Up to 5 m high