Purdue University researchers are collaborating with Chrysler LLC in a project to use poplar trees to eliminate pollutants from a contaminated site in north-central Indiana.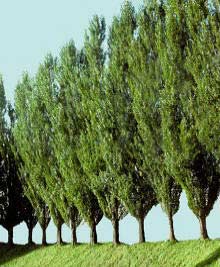 The researchers plan to plant transgenic poplars at the site, a former oil storage facility near Kokomo, Ind., this summer. In a laboratory setting, the transgenic trees have been shown to be capable of absorbing trichloroethylene, or TCE, and other pollutants before processing them into harmless byproducts.
Richard Meilan, a Purdue associate professor, is currently at work to transform one variety of poplar suited to Indiana's climate; cold-hardy poplars are generally more difficult to alter than the variety used in a laboratory setting.
"This site presents the perfect opportunity to prove that poplars can get rid of pollution in the real world," Meilan said.
In a study Meilan co-authored, published last October in Proceedings of the National Academy of Sciences, poplar cuttings removed 90 percent of the TCE within a hydroponic solution in one week. The engineered trees also took up and metabolized the chemical 100 times faster than unaltered hybrid poplars, which have a limited ability to remove and degrade the contaminant on their own, he said.
The transgenic poplars contain an inserted gene that encodes an enzyme capable of breaking down TCE and a variety of other environmental pollutants, including chloroform, benzene, vinyl chloride and carbon tetrachloride.
Meilan said he believes the transgenic poplars will be able to remove the TCE from the site, named Peter's Pond, which was contaminated by tainted oil stored there in the 1960s. The chemical, used as an industrial solvent and degreaser, lies within 10 feet of the surface, making it accessible to poplar roots, he said.
Poplars grow across a wide geographic range and in many different climates, Meilan said."