University of Johannesburg professor Vivian Alberts has spent the past 13 years developing highly advanced photovoltaic, or thin-film, solar panels that could be the solution to South Africa - and the world's - scramble for power.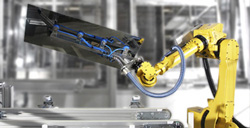 The panels are already being constructed by Johanna Solar Technology (JST) in Brandenburg, Germany, and will go on sale in Europe this year.
According to JST, current solar modules convert only direct sunlight into electrical energy, but thin-film solar modules convert any light across the spectrum into electricity - generating power even under low-light conditions.
Due to the construction of the cells, comparatively high yields can be obtained even under partially shaded or overcast conditions.
Alberts, interviewed in Germany this week, said plans to make the photovoltaic panels commercially available in South Africa were at an advanced stage and there would be a major announcement at the end of March about when they would go on sale.
He said production would be well below the current price of solar panels - at least 50 percent cheaper than anything that is commercially available at present.
Based on improved temperature coefficients - which means lower performance losses at high temperatures - thin-film modules were especially suited to temperatures over 25°C, which was the case in South Africa, he added.
The new thin-film solar modules are based on a wafer-thin, semiconducting absorber layer made of copper, indium, gallium, sulphur and selenium, and are just half the thickness of a human hair and almost a hundred times thinner than a silicon cell.