ZeaChem is using a proprietary combination of biotechnology and chemistry, ZeaChem says it can produce more affordable ethanol with wood chips, not corn, using less energy in the process.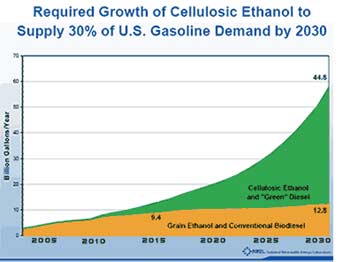 Ethanol, and especially cellulosic ethanol that comes from the fibrous materials of plants, has gotten a lot of buzz in recent months. The energy bill signed by President Bush in the waning days of 2007 mandates a massive increase in ethanol production to 36 billion gallons by 2022. After 2015, nearly two-thirds of the ethanol, or 21 billion gallons, is supposed to come from non-corn sources, such as wood, switchgrass or stover, the non-kernel part of corn.
About 6.5 billion gallons of corn-based ethanol were made in the United States in 2007, with production expected to reach about 9 billion this year.
Corn-based ethanol is used in the United States either as a gasoline additive or as a fuel itself, in a blend known as E85 that's 85 percent ethanol and 15 percent gasoline. Automakers have produced millions of flex-fuel vehicles that can burn either E85 or ethanol. Right now, there are about 1,300 ethanol pumps - mostly in the Midwest with virtually none in California.
ZeaChem's "secret sauce," according to co-founder and research executive vice president Dan Verser, is both how it breaks down biomass - waste wood from poplar trees at first - as well as how it uses wood residue to produce the hydrogen it mixes with ethyl acetate to make ethanol.
One key: A bacteria commonly found in the gut of a termite or in pond scum helps convert the trees to fuel. "Our bug is very tough," said Jim Imbler, ZeaChem's president and chief executive officer.
Its method for making ethanol means greater efficiency and higher yields, Imbler. In theory, ZeaChem can create 150 to 160 gallons of ethanol per ton of biomass. That's triple the amount made from a ton of corn, and 35 percent to 45 percent more than companies using another method to make ethanol.
"We maximize the value of every molecule," Imbler said. "I wish I could talk more about that, but that's where the (intellectual property) is."
The size of the market - about 146 billion gallons of gasoline are consumed in the United States each year - has attracted many other players.