Mitsubishi Motors Corp unveiled its electric vehicle "i MiEV," which has been remodeled for use in a field test scheduled for February 2007 in cooperation with electric companies throughout Japan.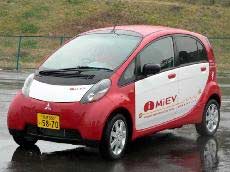 Compared to the model used in the preliminary test conducted in January 2008, the latest model has a longer cruising range. Mitsubishi will provide a fleet of 40 cars to five electric companies.
Mitsubishi aims to launch mass-production of electric vehicles in 2009. And, in the field test, the company plans to investigate such issues as the "preferable length of time for charging from the viewpoint of users" and "compatibility with rapid rechargers under development by electric companies."
Two major improvements in the new test vehicle are the adoption of new Li-ion rechargeable battery and the cruising range extended from 80 to 100 miles in the 10-15 Japanese test cycle. The longer range was achieved by the redesigned motor, control system, etc.
In December 2007, Mitsubishi Motors, GS Yuasa Corp and Mitsubishi Corp set up Lithium Energy Japan, a joint company specializing in the development, production and distribution of large Li-ion rechargeable batteries. Lithium Energy Japan plans to produce 200,000 cells (equivalent to the demand for 2,000 units of electric vehicles) in the FY2009.
The test vehicle will mount the new company's battery for the first time. Thus far, Mitsubishi has used a battery manufactured by Litcel in its existing models.
The time required to recharge the battery pack is about 14 hours at AC 100V/15A, about 7 hours at AC 200V/15A and about 30 minutes by rapid charging (80% recharge). The company standardized the communication protocol of the rapid recharger before use so that it can also be utilized in Fuji Heavy Industries Ltd's electric vehicle "R1e."