Norwegian company Aker Clean Carbon announced plans Thursday to build an 875 million kroner ($157 million) plant to pioneer technology for capturing carbon dioxide from the exhaust from burned fossil fuels.
more stories like this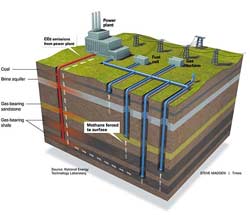 A company news release said the demonstration plant, to be completed as early as next year, was likely to be the world's first and largest of its kind, with the capacity to remove 100,000 metric tons (110,000 US tons) of CO2 annually from exhaust gasses from burning oil, gas and coal.
"The objective is the development of construction methods and effective execution models that make carbon sequestration so inexpensive that it becomes cheaper to clean emissions than to pollute," the company said.
"We have come a long way. To advance further, we must prove that we are able to package technology in commercially attractive solutions," said Aker Chairman and Chief Executive Leif-Arne Langoey, adding that the company sees the project as an opportunity to profit from protecting the climate.
"It is extremely good news," said Audun Roedningsby, of the Norwegian group ZERO, which pushes for emissions cuts. "Aker also wants to be in a position to be on the offensive for the changes that will come as part of fighting climate change."
The company plans to build the plant in the southern Norwegian province of Rogaland to scrub emissions from a natural gas power plant and a natural gas processing facility there.
It said C02 may be released into the atmosphere after capture in the early demonstration period because there is currently no system for storing it. One suggestion is to pipe captured carbon dioxide to Norway's offshore oil fields, where it could be injected into reservoirs for storage while increasing oil yield.
Langoey said "building carbon capture facilities can become an industry similar to the building of oil platforms today."
The 4,000 largest fossil fuel burning industrial and power generating plants worldwide account for about 40 percent of man-made carbon dioxide emissions, and China adds around one coal-fired power plant per week, the company said.