Electrovaya announced today that it is launching the Maya-300, a zero-emission, low-speed electric vehicle. It will have an extended range of up to 120 miles on a single charge, powered by Electrovaya's Lithium Ion SuperPolymer® battery technology with integrated iBMSTM (intelligent battery management system).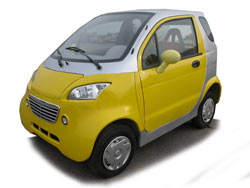 The Maya-300 will be an affordable, zero-emission transportation solution with sufficient range for many drivers. Its top speed is electronically regulated to either 25 or 35 mph, as per state regulations. It offers a superior long electric range of up to 120 miles on a single charge and works very well in cold weather conditions. The on-board battery charger allows for convenient recharging with standard 110V outlets.
The Maya-300 is designed for urban and neighborhood driving patterns. It will be ideal for fleet operators in cities, universities and parks as well as the many households with a second or third vehicle for urban driving within a local neighborhood. The Maya-300 offers these users a clean, zero-emission alternative with sufficient range, low maintenance costs and extremely low operating costs.
"We are very pleased to launch the Maya-300," notes Dr. Sankar Das Gupta, CEO of Electrovaya, "This marks a new era where affordable, zero-emission clean transportation solutions become available with sufficient range for daily local driving. The Maya-300 is a terrific, high profile solution for many fleet operators with a driving range longer than other low-speed electric vehicles. Its operational convenience, low operating costs and all-weather performance are a winning combination."
The Maya-300 will use Electrovaya's proprietary Lithium Ion SuperPolymer® battery technology system featuring its MN-Series with a balanced energy and power density optimization. The MN-Series is Electrovaya's preferred chemistry for transportation because it offers up to 40-60 percent higher energy density with comparable safety characteristics to its Phosphate-Series offerings.
The Maya-300's battery system incorporates battery separator films from ExxonMobil. Separator film is an integral part of battery system design and critical to overall performance. Innovations in these component technologies enable Electrovaya's battery platform technology to be optimized for applications like transportation, which require safe, cost-effective, high performance technologies.