Israel's government on Monday endorsed the ambitious plan of a private entrepreneur to install the world's first electric car network here by 2011, with half a million recharging stations to crisscross the tiny country.
Supporters hailed the undertaking as a bold step in the battle against global warming and energy dependency, but skeptics warned that much could still go wrong along the way.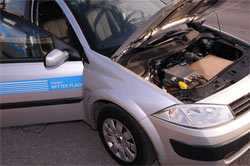 In a signing ceremony with the Renault-Nissan Alliance - under the slogan "Transportation without fuel, making peace between transportation and the environment" - Israel's leaders pledged to provide tax incentives to customers to make Israel's cars fuel-free.
The project is a joint venture between Renault-Nissan, which will provide the electric vehicles, and the Silicon Valley-based startup Project Better Place, which will operate the recharging grid. The replacement and charging of the lithium-ion batteries is supposed to work like that of a cellphone battery.
"For the first time in history, all the conditions necessary for electric vehicles to be successfully mass-marketed will be brought together," the companies said in a statement.
The initiative is the brainchild of Shai Agassi, 39, an Israeli-American entrepreneur and high-tech star, who raised $200 million to get the project off the ground.
"Our planet's battery got charged over hundreds of millions of years, and yet we have consumed half the world's oil in one century. In the process, we got addicted to oil, polluted our cities and altered our planet's climate," Agassi said. "Finally, we are running out of out most precious commodity of all - we are running out of time."
Less than a year ago, Agassi quit as a top executive at the German software giant SAP AG to pursue his green dreams. Along with his partner Idan Ofer, he founded Project Better Place, aimed at helping reduce greenhouse emissions by building a network of charging stations for electric cars across Israel.
Agassi's spokesman said his home country of Israel was the ideal laboratory to market his vision because of its high fuel prices (around $1.70 a litre), dense population centres and supportive government. In Israel, 90 per cent of car owners drive less than 72 kilometres per day and all major urban centres are less than 160 kilometres apart, making the use of battery operated cars more feasible than in countries with longer average commutes.
Ghosn said the cars, with a range of up to 160 kilometres per charge, would have a top speed of 110 kilometres per hour: the top speed limit in Israel. And Aggasi vowed that, in the long run, the electric car would be cheaper to operate than one based on fuel.
Israeli leaders said they hoped the country would prove to be a trailblazer in the field of alternative energy. "This initiative will revolutionize cars in Israel and throughout the world," National Infrastructure Minister Binyamin Ben-Eliezer said.