GE Global Research, the centralized research organization of the General Electric Company (NYSE: GE), announced that scientists on their Nano Photovoltaics (PV) team have demonstrated a scalable silicon nanowire-based solar cell, which has the potential to achieve up to 18% efficiency and be produced at a dramatically lower cost than conventional solar cells. This demonstration represents a promising development in the effort to make PV systems more economically viable for consumers.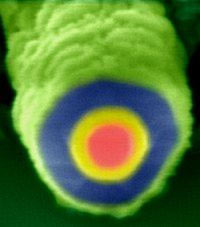 "GE's demonstration of the silicon nanowire-based cell represents a significant breakthrough in our efforts to enable higher efficiency cells that can be produced at much lower production costs," said Dr. Loucas Tsakalakos, Project Leader of GE's Nano PV team. "Today, higher efficiency often comes with a higher price tag. Through the unique processing and materials property benefits enabled by nanotechnology, we're aiming to break that paradigm and pave the way to making solar power more affordable for consumers while maintaining and even improving cell performance."
Increasing the affordability and availability of solar power is a key part of GE's ecomagination initiative. Ecomagination represents the company's commitment to develop cleaner technology and product solutions to address the world's toughest environmental and energy challenges. GE has committed to more than doubling its level of investment in environmentally friendly technologies like solar from $700 million to $1.5 billion by the year 2010. GE is well on track to meet its commitment, surpassing the $1 billion mark in R+D spending this year.
GE Energy markets and sells solar electric power systems for residential, commercial and industrial applications. GE's Global Research Center is actively engaged in developing cutting-edge technologies that will advance the Company's product portfolio. The work published in Applied Physics Letters was a result of collaboration between researchers at GE Global Research and GE Energy-Solar Technologies.
GE's Solar Technology Platform
GE's solar research program is unique in that it involves a comprehensive examination across the entire solar industry value chain to enable technology solutions that will make solar power more affordable and available in the U.S. and around the world. The program has a balanced mix of short and long-term technology initiatives to achieve its goals.
Beyond this program, GE researchers are working on technologies to convert solar energy into usable power that can be supplied to a house, building or to the electrical grid. As renewables like solar and wind achieve a higher penetration into the grid, new technologies will be needed to smooth their transition.