A smart power grid, in general, would allow consumers and utilities to determine peak usage hours and change consumption habits and rates accordingly.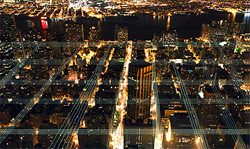 The group is considering several cities within Xcel's eight-state service region, including cities in Colorado, and will announce the selection in March.
The ideal city would be geographically concentrated and feature a population of roughly 100,000 that includes environmentally conscious customers interested in trying green products, Xcel spokeswoman Ethnie Groves said.
Cities in Colorado with about 100,000 residents include Arvada, Boulder, Centennial, Fort Collins, Greeley, Pueblo, Thornton and Westminster.
Groves wouldn't disclose any of the cities that are under consideration.
A smart grid would allow Xcel to charge higher rates during peak usage hours and lower rates during off-peak hours. Consumers could lower their monthly bills by performing power-consuming tasks, such as running the dishwasher, during off-peak hours.
"That's a pretty good way to take care of capacity issues," said Jon Caldara, president of Golden-based think tank Independence Institute. "I'm not a big fan of Xcel, but on this one, I think they're taking a step in the right direction."
Xcel plans to install in-home control devices in the smart-grid city to automate home energy use. The city would be outfitted with infrastructure to support renewable energy sources such as wind and solar. The city would also feature plug-in hybrid-electric vehicles that charge and discharge to the grid.
"Using the smart grid, we can provide innovative solutions to the environmental challenges facing all of us today," Xcel chief executive Dick Kelly said in a statement.
Other states in Xcel's service territory are Michigan, Minnesota, New Mexico, North Dakota, South Dakota, Texas and Wisconsin. Xcel provides power to about 70 percent of Colorado residents.