Global Warming Solutions has announced further advances in the development of its LETG technology. The LETG (Light Electric Thermal Generator) is a hybrid solar and thermal energy generation technology that works by heating up liquids that circulate on the surface of its solar panels to generate electricity 24 hours a day.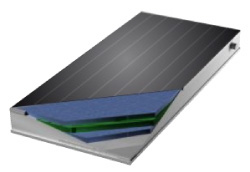 More efficient production
Global Warming Solutions is working to bring its improved solar energy solution to market. In its previous announcements, the Company mentioned the development of a new laminate coating for the solar panels in the LETG system, which increased energy conversion efficiency by 11-15% on average. Now the Company is pleased to announce that it has shifted to dual-sided panels that are applied with the laminate and efficiency has further increased by 38-56% on average.
"We started out with an efficient technology that produced photovoltaic electricity 2.5 times more effectively than conventional solar panels. Then we increased our electric conversion efficiency by 11% as a result of developing a unique coating for the solar panels in our system. Now we have further increased conversion efficiency to 38% by shifting to a dual panel system," Said Dr. Alexander Kornaraki, Chief Operating Officer of Global Warming Solutions.
"We are extremely happy with these results and believe the technology is very close to being ready for implementation as the foundation for a new generation of Solar Power Plants.".