Old Dominion University is partnering with a Massachusetts-based company to test another maglev train on its campus.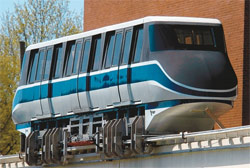 The partnership, which has won the backing of the federal government, could bring a prototype about the size of a van or small bus to the Norfolk campus by summer 2009.
Officials plan to announce the partnership and financial support today. ODU and MagneMotion Inc. will jump-start their efforts with a three-year, $6.3 million grant from the federal Urban Maglev Program.
More than $700,000 will go to ODU for its role. The project beat out four others for Federal Transit Administration funding. ODU officials said Monday that they are excited about the new prototype, but it won't halt plans to continue developing their own maglev vehicle, which has eluded the school for years. The partnership will help the university fulfill a goal of becoming a research center for maglev development throughout the country.
"I don't think this is a race," said aerospace engineering professor Thomas Alberts, who has led ODU's maglev research. "We'd like to be a center for maglev research and give due consideration for any approaches."
Jeremiah Creedon, ODU's director of transportation research, said, "Our goal is to help develop affordable maglev systems. Now, we'll have two approaches to get it – one with funds from the FTA."
ODU began working on maglev after Georgia-based American Maglev Technology Inc. and its partners promised in 1999 to deliver a working maglev transportation system in 2002. Technical glitches, cost overruns, unpaid bills and lawsuits derailed the project.
University financing for ODU's maglev, more than $100,000 this year, will run out in June. Alberts and Creedon are looking for new sources. MagneMotion, co-founded by former MIT engineering and computer science professor Richard D. Thornton, has been working to develop urban maglev for nearly two decades. The company was granted a patent in 2006 for its technology.
MagneMotion's design is similar to ODU's in some ways but uses different magnets for lift and a different propulsion system to move the vehicle, Alberts said. It is better suited for higher speeds, he said.
The company has successfully operated a small-scale indoor prototype on a closed-loop track and is ready to transfer the technology to a full vehicle that could accelerate to reach a speed of 100 mph.
Under the partnership, ODU will provide technical support and full-scale testing on campus for the company's vehicle because of its larger track.
In the first 18-month phase of the project, which could begin as early as next month, much of the work to develop a full-scale train will happen at MagneMotion in Acton, Mass. In Norfolk, ODU will analyze how the train would perform on its track and adapt the infrastructure to accommodate it. The university also will conduct a small campus ridership study to determine what size vehicle to build.