Chrysler is out to prove with the unveiling of the Dodge ZEO concept at the Detroit Auto Show that green cars don't have to be boring in appearance or lacking in performance.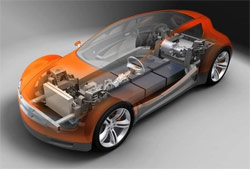 The ZEO -- Zero Emissions Operation -- is a stylish four-passenger, all-electric, two-plus-two sport wagon in keeping with the muscle-car legacy of Dodge brand.
"The Dodge ZEO concept is designed to break the paradigm of what an electric car should look like," said Bill Zheng, Dodge ZEO principal exterior designer. "An electric car can be as expressive as any gasoline-powered vehicle."
The 200-kilowatt (268-h.p.) single-electric motor powering the ZEO draws its juice from a 64-kilowatt-hour lithium-ion battery pack capable of providing propulsion for at least 400 kilometres between charges. And with a zero-to-100-klicks time of six seconds and top speed of 210 km/h, it is no slouch and rivals the performance of the brand's famed HEMI powerplants.
Nevertheless, the ZEO boasts a remarkably low fuel-consumption cost electric-equivalency of just 2.35 L/100 kms.
And just in case people you pass dismiss you as a dinosaur the lit crossbar grille indicates you are really a green racer . . . that is if you care and they know what the illuminated grille signifies!
The sweeping design theme of the exterior continues through the interior. A narrow strip of blue LED accent lighting on the doors and quarters leads to the back panel, adding to that effect.
A slim centre console slopes down from the windshield, creating a dual-cockpit effect. To avoid visual clutter, customary controls and a viewing screen are set flush with the surface.
Instead of a conventional instrument panel, the steering wheel, column and instruments are treated as a single, freestanding design element.
The steering wheel has two vertical spokes, set closely together, leaving 80 per cent of the rim open to maximize the driver's view of the gauges displayed on a thin blue acrylic viewing screen.
The scissor doors are somewhat unusual to say the least, but look good in pictures if not on the road.
"With its bold exterior and curving, sculptural interior," says Zheng, "the ZEO concept appeals to Dodge-brand customers who want value, expressive design and useful technology."