General Motors announced a partnership Sunday with Coskata Inc. to use the company's breakthrough technology which affordably and efficiently makes ethanol from practically any renewable source, including garbage, old tires and plant waste.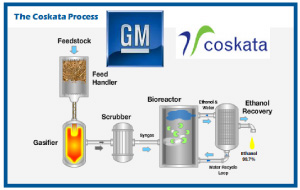 Coskata, which was formally introduced as part of GM's opening press conference at the North American International Auto Show, uses a proprietary process that leverages patented microorganisms and bioreactor designs to produce ethanol for less than $1 a gallon, about half of today's cost of producing gasoline.
"We are very excited about what this breakthrough will mean to the viability of biofuels and, more importantly, to our ability to reduce dependence on petroleum," GM Chairman and CEO Rick Wagoner said.
Coskata's process addresses the issues most often raised about grain-based ethanol production.
According to Argonne National Laboratory, which analyzed Coskata's process, for every unit of energy used, it generates up to 7.7 times that amount of energy, and it reduces CO2 emissions by up to 84 percent compared with a well-to-wheel analysis of gasoline.
Coskata's process uses less than a gallon of water to make a gallon of ethanol compared with three gallons or more for other processes.
Coskata, based in Warrenville, IL, can use its technology practically anywhere in the world that a carbon-based feedstock is available.
For GM, this could lead to joint efforts in markets such as China, where growing energy demand and a new energy research center could jumpstart a significant effort into ethanol made from biomass, Wagoner said.
More immediately, GM will receive the first ethanol from Coskata's pilot plant in the fourth quarter of 2008. The fuel will be used in testing vehicles at GM's Milford Proving Grounds.
GM is the auto industry leader in offering consumers a choice of flex-fuel cars and trucks that run on either ordinary gasoline or E85 – a blend of 85 percent ethanol and 15 percent, or any combination of the two. GM produces more than 1 million flex-fuel vehicles a year and has 3.5 million on the road globally.
In the U.S., GM has more than 2.5 million flex-fuel models on the road and is committed to making half its production flex-fuel capable by 2012. GM sells 11 E85-capable models this year and will increase that to more than 15 models for the 2009 model year.
The next logical step was making the fuel more readily available. GM has worked in partnerships with businesses, universities and non-governmental organizations over the last two years to grow the U.S. infrastructure for E85, helping to open 300 fueling stations in 15 states.