The US Government has a Super Secret plan to embed RFID chips in the new one dollar presidential coin in a test to see if the technology can be adopted for larger denomination coins. If the experiment is successful it could usher in a super easy automated micro payment system that would make cash registers and human to human money exchange obsolete.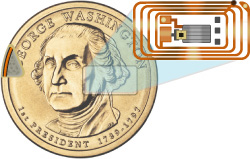 The Treasury is focused on popularizing the notion of large denomination coins to save on the substantial printing cost of 6.5 billion paper dollars a year, which on average last about 18 months in circulation . The Government's last attempt to introduce a $1 dollar coin, the Sacagawea dollar was a disaster with 97% of the public having never used it.
The plan calls for inserting the RFID device in a fixed percentage of coins in order to test the feasibility of large scale deployment. It turns out that coins make for the perfect RFID device, with their conductive alloy composition and their natural resistance to tampering. In fact the range of these passive RFID coins is thought to be 10 feet which means vending machines using this technology would be easier to use and new micro payment industires could develop around fast easymoney transfers. Drive thru windows could be automated and the choice of items in vending machines would be greatly expanded.