One of the leading developers of lithium-ion batteries for hybrid electric vehicles has predicted that the cost of the technology could be cut in half as production capacity increases, paving the way for a significant drop in prices for hybrid vehicles themselves.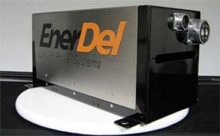 Speaking to Reuters, Charles Gassenheimer, chief executive of Ener1 Inc, said that were production capacity to reach several hundred thousand, the accompanying economies of scale would allow the firm to slash the cost of its batteries by about 50 per cent.
The company, which supplies batteries to Norway-based electric car firm Think and claims to have two development deals in the pipeline with major auto makers, reckons that such a large scale increase in production capacity is feasible.
"The important point of this here is the demand side of this equation doesn't seem to be the problem," he said, adding that demand was "off the charts" in Europe and Asia, and rising fast in the US.
Gassenheimer told Reuters that such a significant cut in battery prices would allow car manufacturers to pass the lower costs onto customers. He added that they should be able to cut the price premium paid for hybrids to a level where, assuming oil prices stay above $100 a barrel, customers would break even on their investment in less than two years.
"We can cut the cost of the battery by 50 per cent and I believe that can be passed onto the consumer," he said. "I also believe that we can bring down the break-even to under two years, which would obviously be very favourable, because it would be within the three-year lease that is a popular choice for American purchasers of automobiles."