Energy Innovations, Inc., manufacturer of commercial solar products that maximize usable energy from the sun, has announced that its flagship product, the Sunflower Solar Concentrator, has officially received certification from Underwriters Laboratories (UL) and is authorized to carry the UL Mark (under the Concentrator Photovoltaic Modules and Assemblies (QICP) category). To date, no other product in the concentrating solar photovoltaic (CPV) category has achieved this certification.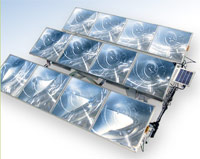 Currently, certification by a nationally recognized test laboratory, such as UL, is required for the permitting of commercial PV installations and is necessary to qualify for most U.S. state incentive programs.
The Sunflower CPV Solution integrates the photovoltaic module, tracker, controller and communications system into one solution that produces cost-competitive solar power while also being easy to install and maintain over time. Having secured UL certification for the Sunflower, Energy Innovations will be raising additional capital to expand production and deploy commercial installations coming online in 2009.
"After strict evaluation and testing to all current requirements, Underwriters Laboratories has issued UL Listing for the Sunflower solar concentrator system," said Evelyn Butler, manager of UL's Renewable Energy Sector. "We look forward to working with Energy Innovations and the growing community of solar start-ups, as well as regulatory authorities, government agencies and other stakeholders, to further define and develop requirements that will be used to test other solar concentrating photovoltaic products."
"This important milestone is a direct result of our entire team's commitment to building best of breed products that exceed expectations in safety, reliability and energy production," said Bill Gross, CEO of Energy Innovations. "The UL Mark is one of the most recognized symbols of safety in the world and to say we're thrilled to have our work validated by such an independent and reputable institution would be an understatement."
The Sunflower system concentrates sunlight more than 1000 times and uses ultra-high efficiency triple-junction solar cells to get more energy per dollar than traditional PV systems. "Energy Innovations' mission is to drive the price of solar-electricity below the price of fossil-fuel electricity," continued Gross, "and the size of the market is trillions of dollars when that goal is reached. For more than 50 years, since expensive photovoltaic cells were invented, people have dreamed of reliably concentrating sunlight to make PV cost effective. With the UL approved Sunflower concentrator, that dream is soon to be realized."
.