Nail polish and pizza ovens will help provide cheap, clean energy to the world's poor if Nicole Kuepper has her way.
The young PhD student's MacGuyver-like efforts to create a revolutionary solar cell using everyday items has won two Australian Museum Eureka Prizes - the nation's top science awards.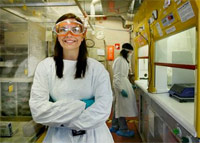 The 23-year-old took out the people's choice award as well as the prize for young leader in environmental science and climate change at tonight's awards in Sydney.
Ms Kuepper developed and patented the iJET solar cell which can be made cheaply at low temperatures using items such as an inkjet printer, nail polish and a pizza oven.
The University of NSW student and lecturer hopes it will lead to green energy in developing nations, providing electricity to the world's two billion poorest people.
Her breakthrough was among an eclectic array of winners at the Eureka Prizes, dubbed the Oscars of Australian science.
Other prizes went to a scientist who discovered flourishing micro-wildlife beneath an area of WA's north-west long believed "dead", a research group that developed a filter allowing night vision goggles to deliver colour images, and a cheeky Year 8 student who found that cancelling school was an effective way to cut carbon emissions.
But it was Ms Kuepper's work developing solar technology using a low-cost inkjet printing process which captured the imagination.
Expert panels decide on the prizes, with the exception of the people's choice, this year awarded after a public vote of 16,000 Australians - more than 50 per cent being students.
"(It) gives students real-life role models in science," Australian Museum director Frank Howard said before the awards.
"I'm sure any parents would be delighted for their child to aspire to the heights that Nicole has reached at such a young age.
"Nicole's iJET solar cell will potentially bring affordable electricity to the poorest people in the world, but more than this, it will be clean and renewable."
Current production techniques for photovoltaic, or solar, cells make them expensive, but the iJET can be made without high-tech environments or components.