Solar energy has long been viewed as the perfect form of alternative energy. Free and renewable, solar energy's potential has only been constrained by the technology used to harness it. Efforts to use the sun's rays to power a building had previously involved expensive engineering and design, as well as unpredictable installation costs.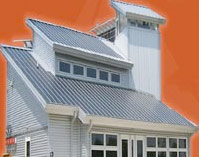 However, with building-integrated photovoltaic (BIPV) technology, solar energy is freed from the old financial and engineering limits. The key to this change is found in the PV laminates that power the EnergyPeak system.
EnergyPeak integrates UNI-SOLAR brand PV laminates with standing seam metal roofs. PV laminates are applied in the metal roofing factory and arrive at the project site already integrated into the roof. Once installed, a building immediately benefits from the solar roofing system and can begin immediately to offset its energy consumption.
Widely regarded to represent the future of solar energy, PV laminates can dramatically lower the cost of a solar energy system. Because EnergyPeak integrates the flexible, lightweight PV laminates directly into a building's standing seam metal roof, there is no need for additional structural support.
Durable and rugged, the laminates can be walked on or curved and are tested to withstand 160 mph winds.
Prior to the breakthrough that created PV laminates, solar energy was collected using large, bulky polycrystalline panels. These fragile panels required additional structural support and customized installations with each project, making solar energy financially unattainable for most.
Easy installation and cutting-edge PV technology, coupled with EnergyPeak's seven pre-engineered systems have resulted in a solar energy system that can pay for itself in under five years in some states. For example, based on current rebates and incentives, a 30kW system installed on a commercial building in New York would pay for itself in only four years.
Additionally, this system would save over 31 metric tons of carbon dioxide from being released into the atmosphere annually - roughly the amount of CO2 released by five automobiles each year.
The EnergyPeak system is available from the nation's leading standing seam manufacturers. With seven system sizes, an EnergyPeak system can be fitted to projects ranging from residential to industrial. For prospective projects, EnergyPeak also offers a customized return on investment (ROI) report accurately detailing expected power out and internal rate of return..