The Oregon Solar Highway demonstration project, a public-private partnership with Portland General Electric and US Bank is to build the first-in-the-nation solar array in a freeway interchange. Groundbreaking took place Aug. 7, 2008. Physical construction is expected to begin in mid-September.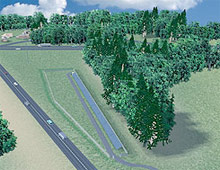 This is an "all Oregon" project – Oregon companies will supply materials, design and install this collaborative project, showcasing what can be accomplished through creative, responsible partnering in the public and private sectors.

The 104 kilowatt ground-mounted solar array will cover an area roughly the length of two football fields and producing 112,000 kilowatt hours a year, or 28 percent of the 400,000 kilowatt hours used to light the interchange.

The concept of generating solar electricity in the highway operating right of way is of keen interest to solar industry providers, as well as state and federal elected officials, the Federal Highway Administration, the Oregon Department of Energy and the U.S. Department of Energy. While "roadside solar" has operated successfully for almost 20 years in Europe, it has never been attempted in the United States; Oregon will be the first. With its commissioning, the Oregon Solar Highway project will extend not just Oregon's role as a leader in the development of alternative energy resources, it will also showcase the Oregon Department of Transportation's vision and leadership to creatively meet the energy challenges ahead.