Maxwell Technologies Inc. has announced that Vossloh Kiepe GmbH, a leading producer of heavy vehicle drive systems, has selected Maxwell's 125-volt BOOSTCAP® ultracapacitor modules for braking energy recuperation and torque assist in emission-free electric buses it is producing in collaboration with Van Hool NV for the Milan, Italy, municipal transit system.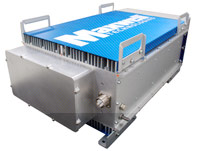 The Vossloh-Van Hool buses for Milan are low-floor articulated vehicles equipped with ultracapacitor-based energy storage systems that absorb and store energy from recuperative braking for reuse in powering zero-emission electric motors. The basic drive system can be augmented with energy supplied via overhead lines or a 100 kilowatt diesel generator set that is certified in compliance with the Euro-5 emission standard. The city of Milan recently announced that it is taking delivery of the first 15 of a total of 70 vehicles it has ordered from Vossloh Kiepe and Van Hool.
"Incorporating supercapacitor technology in our equipment fits well into Vossloh Kiepe´s company policy of providing environmentally friendly public transport solutions," said Bernd Flaskamp, Vossloh Kiepe's Executive Vice President for Commercial Services. "Using supercapacitors for energy storage to recuperate braking energy reduces energy consumption significantly and Vossloh Kiepe is proud to be a leader in the transportation industry in delivering this technology to the customer."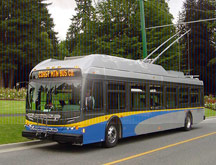 David Schramm, Maxwell's president and chief executive officer, said that shipments are scheduled to begin during the current quarter on Vossloh's order for a total of 300 BOOSTCAP HTM125 heavy duty transportation modules to be delivered by the end of the year.
"The HTM125 is the result of extensive work with Vossloh Kiepe and other leading transportation OEMs to develop a robust multi-cell module to withstand the harsh environments and extremely demanding duty cycles that are typical in heavy transportation applications," Schramm said. "The HTM125 meets transportation industry requirements for watt-hours of energy storage and watts of power delivery per kilogram, and is designed to perform reliably through one million or more deep discharge cycles, or about 15 years of operational life for most vehicles. This is the first of what we expect to be several series production orders for heavy vehicles in Europe."
The HTM125 is encased in a rugged, splash-proof, IP 65-compliant, aluminum chassis, weighs less than 60kg and measures 315x425x744mm. Integrated monitoring capabilities and a highly efficient cooling configuration enable it to sustain continuous current of up to 150 amps with minimal temperature increase in high-temperature environments. Up to 12 125-volt modules may be linked in series to deliver a total of as much as 1,500 volts. Maxwell also offers a complete line of standard 15- to 75-volt multi-cell modules..