ZBB Energy has announced that it has executed a memorandum of understanding with Envision Solar International to provide energy storage systems as part of the "LifeVillage" solar project in Cote d'Ivoire on the west coast of Africa.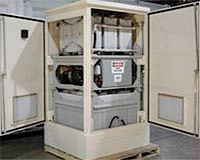 LifeVillage will incorporate ZBB's energy storage system along with roof mounted photovoltaic panels designed to provide a reliable source of electric power to remote areas. The system is a complete modularized solution that is durable and long-lasting, deployable via truck to virtually anywhere on the continent.
The prototype for the LifeVillage project is scheduled to be completed by ZBB and Envision by the beginning of October.
The prototype will be built and initially demonstrated in the United States and then shipped to Cote d'Ivoire. Based on the success of the prototype, the two companies plan to establish remote area village power systems throughout west and central Africa.
ZBB Energy Corporation will provide renewable energy storage for the project, using its ZESS 50 zinc energy storage system.
The ZESS 50 is a regenerative fuel cell-type storage system that provides technical performance at a lower overall cost than other energy storage systems such as those using lead-acid, nickel cadmium, vanadium, and others.
ZBB CEO Robert Parry said LifeVillage is a great example of how ZBB's energy storage can be deployed with renewable power systems, and will provide an opportunity for West African nations to create jobs, educate citizens and solve socio-economic issues by providing electricity to areas that either do not have access or are subject to severe power outages.
The solar plus storage solution provided by the joint product capabilities of both Envision Solar and ZBB Energy make for a unique, highly replicable remote area power system that is totally renewable energy.
"LifeVillage promises to be a major advancement for remote areas without access to any adequate power," Parry said. "Since the ZESS 50 is compatible with alternative energy sources such as solar, it is the perfect energy storage system for this project.
Bill Adelson, Chief Technology Officer of Envision Solar, commented, "we designed this system as a comprehensive integrated solution to bring energy to rural parts of French West Africa. The LifeVillage units will contain classroom settings and medical clinics as well as housing for teachers and doctors in remote locations. The LifeVillage units can be assembled and deployed within two weeks of arrival at each location."
Bill Mundell, a Director of ZBB and a key advisor on west and central Africa said the project is an important new approach to providing energy to remote areas.
"African poverty in plight rather than opportunity dominates western headlines. The reality is that the commodity boom over the last five years created savings and receipts of a middle class across many African countries," Mundell said. "With LifeVillage, Africa is now in the position to effectively leap frog the carbon economy."
The ZESS 50 is also the renewable energy storage system that is being used at the Future House USA exhibit at the Beijing Olympics..