Luxury car maker Mercedes-Benz will launch an electric version of its Smart model by 2010. The company is also looking to introduce electric variants of its popular A-Class and B-Class models, board member Thomas Weber said.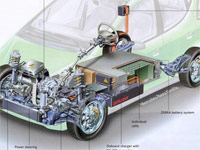 Asked which electric versions of Daimler cars other than the electric version of the smart model are currently being planned, Weber said "one option would be our current Mercedes A- and B-class." Given the models' sandwich construction technique, these cars would be well suited for alternative power trains, Weber told the magazine. Separately, weekly Automobilwoche reported that U.S. car supplier Tesla Motors is expected to deliver the needed lithium ion batteries for the Mercedes cars. The magazine didn't reveal the sources for its story.
The models initially has been developed to be driven by a fuel cell motor. It could now instead accommodate a lithium ion battery without being redesigned.