Signet Solar, a manufacturer of silicon thin film photovoltaic (PV) modules has announced the fabrication of the industry's first ever Gen 8.5 (5.7 m2) silicon thin film solar PV module at its new factory near Dresden, Germany in a record setting ten months from the start of construction.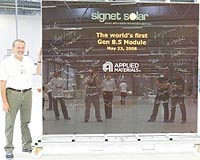 After finishing construction of the 200,000 square foot production facility in only seven months, Signet Solar completed installation of equipment and started initial fabrication in less than three months.
Signet Solar's technology lowers the cost of photovoltaic (PV) modules by combining proven silicon thin film technology, with very large area manufacturing and an industry standard equipment set. The initial modules from the fully automated module manufacturing line met the specification of the product and were confirmed by independent testing by Fraunhofer Institute.
Signet will start prototype production in early June and will showcase the Gen 8.5 module product line at the Intersolar Conference in Munich.
This flawless execution was enabled by Signet Solar's core competency in semiconductor manufacturing along with added expertise from the solar, glass and flat panel display industry. Commercial production will start in Q3 2008 and capacity expansion to over 100MW by 2009 is planned at the same site.
Signet has existing customer commitments of over $400M. Signet Solar will continue to aggressively increase capacity globally to become the technology and cost leader in silicon thin film module manufacturing.
"The concept of ultra-large modules was very attractive to our customers. We now have demonstrated the capability to produce ultra-large modules on a fully integrated line," said Dr. Rajeeva Lahri, CEO and Founder of Signet Solar Inc.
"This is a very important milestone for us as it sets the stage for a model manufacturing line which will be replicated globally to expand capacity."
Through partnerships with proven equipment suppliers, solar PV solution providers and energy producers, Signet is positioned to be the leader in thin-film photovoltaic module production and delivery.
The applications of Signet Solar products include: solar farms, large commercial installations, building integrated photovoltaics (BIPV), and remote habitation.