BroadStar Wind Systems is showcasing its new AeroCam turbine at the Windpower 2008 Conference and Exhibition in Houston. The event marks the company's first public appearance and presentation of what it terms a "new generation" wind turbine.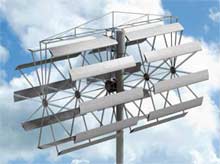 The AeroCam is designed and patented for commercial applications. With parallel rotor blades, the AeroCam looks significantly different from conventional propeller designs, and according to BroadStar, can be manufactured, transported, installed and maintained at lower cost.
"Wind energy now can be made directly available to everyone," said Stephen Else, president of Dallas-based BroadStar Wind Systems. "By harnessing its power in almost any setting, the AeroCam can now generate energy close to where it's actually required. This is a new and exciting product with great potential."
Following four years of research and development and the issuance of U.S. patents, the company is currently in the final stages of negotiations to place the product with two Fortune 100 companies.
"It's a great opportunity to make our debut and share the unique benefits of the AeroCam with industry experts and a variety of potential customers, including wind farms, urban developers and government bodies," says Else. "There's a similar event in London later in the year, where we'll introduce our new wind turbine to the European market."
Until now, generating energy from wind power has been primarily limited to rural areas large enough to accommodate conventional turbines. The AeroCam design is more compact and can be discretely enclosed, making wind power generation possible in a greater variety of locations.
The new design is based on principles first established by the French aeronautical engineer Georges Jean Marie Darrieus (1888-1979), who invented a wind turbine capable of operating from any direction and under adverse weather conditions. Darrieus machines typically have a vertical axis, whereas the AeroCam design has a horizontal axis with multiple blades, giving it the appearance of a water wheel.
The major innovation in the design, according to BroadStar, is the ability to automatically and interactively adjust the pitch of the aerodynamic blades as the turbine rotates, thereby optimizing its performance.
The new AeroCam wind turbine enables distributed power generation in almost any setting, including densely populated urban areas and unconventional sites such as commercial developments and corporate campuses.
In addition, BroadStar sees an opportunity to increase capacity of existing wind farms. Typically less than five percent of the area in may wind farms is occupied by turbines, roads and other infrastructure. Because the AeroCam is smaller and sits closer to the ground, and can capture abundant surface-wind energy without disrupting the smooth airflows that taller and larger propeller-based turbines need to operate effectively, BroadStar believes it offers a practical, economical way to infill existing farms for greater overall power generation.
"It all adds up to a solution that delivers more power and more choice of location, with a lower total cost of acquisition and ownership and a faster payback period," said Else. "The AeroCam has the potential to equip almost every local community, business and government building with its own renewable energy power station and it can supplement existing turbines."
BroadStar's AeroCam delivers a 250kW machine for US$250,000 and is claimed to be the first turbine to break through the $1/watt cost barrier.
BroadStar officials believe this makes the turbine more economical than most other available renewable energy solutions, including solar panels. The AeroCam could enable communities to cost-effectively establish their own local power generation source or offset the energy they purchase from the grid, selling any excess energy generated back to the electric utility companies.
"In essence, our efficient aerodynamic design lends itself to smaller wind turbines, which can operate closer to the ground or on a rooftop. They can handle a wide range of wind velocities, anywhere between four and 80 mph. They generate their power at lower rotational speed, so there is less noise and vibration hence less wear and tear. But most importantly the AeroCam can be manufactured at a lower cost than conventional turbines. This makes the overall economic argument very compelling," said Else.
"Today there are very few turbines in the 100 to 500-kilowatt class. This is due to the high cost of ownership and maintenance of existing commercial designs now evolving into a super wind turbine class of 6-megawatt machines with blades exceeding 50 meters in diameter.
"This all works well assuming unlimited transmission line capacity. Unfortunately, transmission bottlenecks are becoming one of the single biggest issues for conventional wind farms, which tend to be located in remote areas where the electricity grid infrastructure was never designed to transmit the amount of energy that can now be generated and which is now required."
"The AeroCam wind turbine realizes the economic benefit of being able to place wind turbines locally, where the energy is needed and can complement existing energy sources."