HP and Xtreme Energetics, a solar energy system developer based in Livermore, Calif., have entered into an agreement for the development of a solar energy system designed to generate electricity at twice the efficiency and half the cost of traditional solar panels.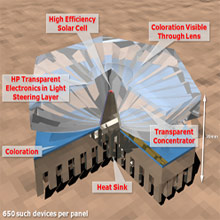 Under the technology collaboration and licensing agreement, HP will license its transparent transistor technology to XE in return for royalty payments.
The transparent transistor technology that will be used in XE's solar energy device was co-developed by HP and Oregon State University. The technology includes thin-film transparent transistors, which are made from low-cost, readily available materials such as zinc and tin. The materials raise no environmental concerns and allow for higher mobility, better chemical stability and easier manufacture, according to XE and HP.
"Having a layer of transparent electronics enables more light to come through and be converted to electricity, improving the overall efficiency of a solar panel," Croft says. The transparent electronic trackers will also be more precise and easier to maintain, says Colin Williams, CEO of Xtreme Energetics. The transparency of the electronics also enables Xtreme Energetics to add color tints to its panels, making them more attractive as architectural elements, according to Williams.
HP's experience with large area processing will help turn Xtreme Energetics' dreams into reality, Williams says. "We're starting out going for the commercial roof market because we want to get to a high volume manufacturing quickly and we need big orders to do that," says Williams. "HP's experience in large area processing is also key—they can make these devices cheaply and at scale."
Xtreme Energetics plans to put out its first solar system in 12 months, minus HP's transparent transistors. Within 24 months, the company will release roof panels integrated with HP's technology to deliver dramatic energy gains at a comparable price point to conventional PV systems, according to Williams. "Our panels will be twice as efficient, we'll be able to deliver a higher energy density, and customers will have the option of choosing a color," Williams says, adding that because Xtreme Energetics will always be afford to use best of breed materials, because it won't need to use as much.
The transistor technology enables control of XE's concentration and tracking system as it provides a transparent electronic mechanism to maximize the concentration of light. When coupled with XE's system, the technology improves conversion efficiency, as maximum light can get through without being blocked by traditional non-transparent electronics.
"Open innovation to foster collaborative research is essential in today's fast-paced, innovation-fueled market," says Joe Beyers, vice president of intellectual property licensing at HP. "Through our collaborative research and by licensing HP's core intellectual property in electronics, we are accelerating the pace of technology transfer so that it can be applied more rapidly into creating commercial, renewable energy solutions.".