Ronn Motor Company has unveiled the key to a new generation of "green cars" by revealing the nuts and bolts of what it expects will help drive down consumers' cost to travel the highways with on demand hydrogen production.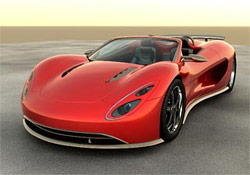 "What we are revealing today is an innovation in the automotive industry and demonstrates American ingenuity at a time of real need," says Ronn Motor Company's Chief Executive Officer Ronn Maxwell. "We're designing and building cars with performance components and unique styling with the objective of making the new environmentally friendly vehicle stand out with never before seen style and approximately 40 mpg plus efficiency," he adds.
The new car, now in pre-production, is called the "Scorpion," and the Company plans for it to be available to consumers this fall. The hydrogen delivery system with dual computer processor controls produces hydrogen on demand, and in real time, which will be inducted through the air intake manifold and blended with gasoline at a ratio of 30-40 percent hydrogen, according to Maxwell. The fuel for this system is derived from fracturing water molecules drawn from a small on board water tank, and will not require a high pressure, on board hydrogen storage tank or hydrogen fueling station.
The Scorpion has a curb weight of 2,100-pounds, 450 hp with dual turbos, an air conditioned engine and performance suspension. Top speed will be over 200 mph and its 0-60 acceleration is expected to be an amazing 3.5 seconds.
The Ronn Scorpion has a 1.5 gallon water tank for the Hydrorunner with a 2 gallon auxiliary tank. Engineering is also working on recycling water from the condensation of the air conditioning system so that the water tanks never have to be refilled.
Ronn Motor Company, located in the Texas Hill Country west of Austin, was founded by Maxwell and former Dell, Inc. Executive Adrian Pylypec of Austin, who is Vice President for the Company.
"We have partnered with automotive industry elite like Hydrorunner to design and produce eco-exotic cars with exclusive styling and uncompromised performance," says Pylypec. He adds, "The Scorpion is a proof of concept vehicle that helps solve consumer energy problems today and we expect will serve as a platform for our second generation vehicles."