Sakai City, Kansai Electric Power and Sharp Corporation have agreed to cooperate on the Sakai City Waterfront Mega Solar Power Generation Plan in Osaka Prefecture, Japan.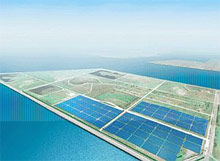 Under the plan, mega solar power generation is scheduled for the following two locations.
(1) Sakai No. 7-3 District Solar Power Generation Plant (tentative name)
Output: Approx. 10 MW (10,000 kW)
(2) Sakai Manufacturing Complex Solar Power Generation Facilities (tentative name)
Output: Approx. 9 MW (9,000 kW) to start, with maximum of 18 MW (18,000 kW)
The first will be built by Kansai Electric in Sakai No. 7-3 District, on an industrial waste landfill in Nishi Ward, Sakai City.
As for the second, Sharp and Kansai Electric will install solar power generation facilities on Sharp's and other companies' buildings in the complex, thus creating an in-complex source of power. The two companies are currently working out the details of the running of these solar power facilities. Sharp intends to use thin-film silicon solar modules, which will be produced at the solar cell plant that is scheduled to go online in March 2010. Sakai City is positioning this plan as a key part of its Cool City Sakai*, an initiative for a low-carbon metropolis. The city is working with Kansai Electric and Sharp to bring this initiative to fruition.
The two solar power generation facilities scheduled to be built in the waterfront district of Sakai will have a combined output of approx. 28 MW (28,000 kW), making this one of the world's largest solar power facilities. Like nuclear power and hydroelectric power, solar power produces no CO2 during the power generation process. When completed and operating, this project will result in CO2 emission reductions of approximately 10,000 tons a year.
Through this plan, Kansai Electric will build and operate solar power generation plants as part of its business. The company hopes to contribute to the proliferation of solar power by studying how to overcome various obstacles and publicly sharing the knowledge it gains in the process.
Sharp is already operating an approx. 5-MW (5,000 kW) solar power generation system at the Kameyama Plant, the site of integrated manufacturing of LCD panels and LCD TVs. By installing an even bigger system, the manufacturing complex in Sakai will be the ultimate environmentally advanced production base.
With this agreement to jointly build solar power facilities, the three parties are working towards the realization of a low-carbon metropolis, with Kansai Electric and Sharp participating in the organizational structure that Sakai City has set up to run its Cool City Sakai initiative.