Italian-based architect, David Fisher, Tuesday introduced a design that would allow every floor of a towering skyscraper of apartments to rotate at the will of its occupants or building operator, offering scenes of sunrise and sunset all from one location.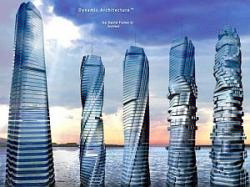 The first "Dynamic Tower" is to be finished by 2010 in booming Dubai, the second shortly after in Moscow, said Fisher at his presentation.
Buyers can get in on the deal starting at 30,000 dollars per square meter. German companies have expressed interest, but Fisher would only reveal that it could be in Berlin, Hamburg, Frankfurt or Munich.
The apartments of the rotating tower are to be prefabricated in a factory and mounted on a cement structure already in place. That saves labour and money, Fisher said.
The whirling building aims to be not only energy self-sufficient, with wind turbines between the floors and solar collectors exposed on each storey, but also to produce an excess of power for the neighbourhood.
"They will be the first high rises in the world to be self sufficient from the standpoint of energy," said the architect.
Fisher promised "breakfast by sunrise and dinner by sunset" for occupants. The Penthouse owner can even put his car in an elevator and park it in front of his "house."