The prototype for a new Hungarian car that can reach 87 miles per hour while only consuming 1 gallon of ethanol per 120 Miles, was unveiled Tuesday in Budapest.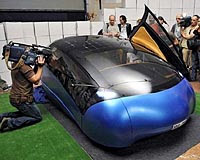 The smooth,oval-shaped "Solo," developed by Hungarian company Antro and presented Tuesday at Budapest's Museum of Transport, is just over three metres long, less than two metres wide and can carry up to three people, with the driver sitting between the two passengers.
With a car frame and body made of a carbon fiber composite, the vehicle is ultra-light, weighing only 595 pounds.
And the glass roof is entirely covered with high-performance solar panels, enabling the vehicle to cover 12 miles on solar energy alone. For longer trips, four small electric engines are also hidden behind each wheel.
"Solo is a hybrid car with two modes of functioning: moving in the city using electric engines, solar energy or even human power thanks to mechanic pedals attached to a generator -- for traffic jams. And for longer trips it uses a modern engine running on not only traditional but also biofuels and ethanol," said Antro director Zsolt Hegedus.
The interior is elegantly cosy with wood and leather everywhere, even on the steering wheel and on additional pedals allowing the passengers to help move the car along.
Solo is expected to cost about $18,606 dollars, the usual price for a small city vehicle of this kind, but its carbon-dioxide emissions are only a quarter of that released by its non-hybrid rivals, its developers said.
They said they were hoping to begin mass production in 2012.
Antro has also promised a big sister for Solo by that time.
Baptised Duo, it will carry six people and its owners will even be able to go their separate ways if need be: according to its designers, it will be possible to transform the Duo into two Solos in ten minutes.